"Reward your Dog with a big ol' piece of Yellowstone Country Today!"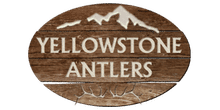 Bark n' Purr Boise is proud to carry Yellowstone Antlers in Boise, Idaho. Yellowstone Antlers is a family venture. As a family we enjoy the challenging sport of Antler Hunting. It brings us out in the wilds together where we enjoy a totally natural experience. For the kids hunting for shed antlers is the ultimate treasure hunt. Doing this as a family helps us form stronger family bonds as we spend quality time together. We also buy from local people who spend time in the woods gathering antlers.
Dog Product
Premium Quality Elk Antler Dog Chews for Sale
Mule Geer Antler Dog Chews - Grade 
Moose Antler Dog Chews
Wholesale Elk Antler Dog Chews
Come visit our pet supply store in Boise, ID specializing in quality food, treats, and supplies for cats and dogs.